Newry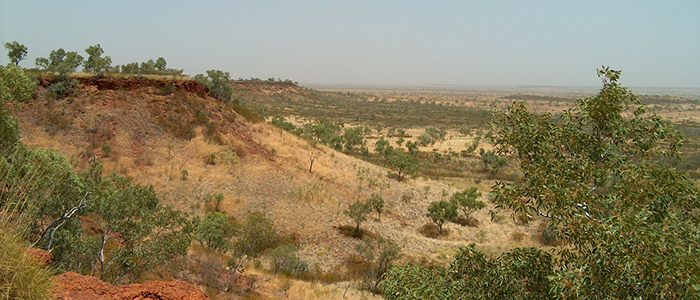 History
The Newry fossicking area is located on Newry Station, a large pastoral lease south west of Darwin in the Northern Territory. It adjoins the Territory's border with Western Australia and is operated as a cattle station.
Named after the Irish port of Newry, the property was first taken up in 1886, with a homestead built on the banks of the Keep River. Cattle were introduced after the lease was bought by a pastoralist who spent two years droving a herd of 7,000 cattle and horses 5,000 km across northern Australia to the Ord River region where they established several cattle stations.
Much of the pastoral lease lies within the Keep River Important Bird Area, so classified because of the importance of its habitats for conservation of the endangered Gouldian Finch.
A 400 ha site within the property - the Newry Station Gouldian Finch site - is listed on Australia's Register of the National Estate.
Discoveries
Zebra rock, primordial stone, fire stone
Like the name suggests, the zebra rock (also known as Kimberley siltstone) is famous for its unique striped and spotted patterns. So far, the only place in the world where this stone has been found is the Lake Argyle catchment area.
This distinctive reddish-brown and white-banded sedimentary rock is composed essentially of small particles of quartz and 'sericite' (fine-grained white mica); zebra rock also contains the minerals kaolinite, dickite and alunite. The colour banding is probably formed by the rhythmic precipitation of iron oxide (hematite) rich bands during the alteration of the rock by percolating fluids (fluids migrating through the rock).
Primordial stone is a siltstone that occurs in one location within the Northern Territory, being Newry Station. It is known to be about 610 million years old and is sometimes referred to as ribbon or dreamtime stone.
Access
The fossicking area is located south of the intersection of the Victoria Highway and the Duncan Road approximately 12 km east of the NT/WA border. Please leave gates as you found them.
Camping
'Bush Camping' IS NOT permitted on Newry Station.
Extractive Mineral Permit 30446 lies within fossicking area 7 and written consent is required to fossick and camp on this title. Consent can be sought by emailing a Fossicking Notice/Fossicking Request form to allgood@zebrarockmine.com.au (phone 0400 767 650).
Alternative camping options outside FA7:
Ms Duncan also holds several other granted extractive mineral permits (EMP 29674, 27074 and 30557) in close proximity to FA7. Consent is required to fossick and camp within these areas. A specific form has been developed for this purpose and can be obtained by emailing allgood@zebrarockmine.com.au.
PLEASE NOTE: In addition to obtaining consent from the title holder, you are also required to notify the pastoralist, at least seven days before you intend to enter the area within any of the granted extractive mineral permits, outside FA7. Notice can be provided by emailing a Fossicking Notice/Request form to newry@pastoral.com
Travelling in the NT
Driving in the Northern Territory can pose unique challenges even to the experienced traveller, and road conditions can change rapidly. Check road conditions, rest stops and National Park closures prior to setting out.
For further information, please see: