Harts Range West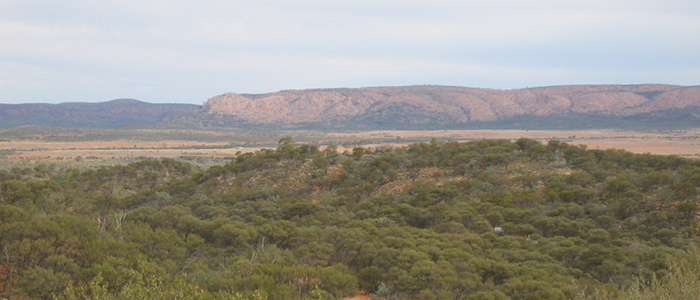 Harts Range West Map PDF (119.5 KB)
History
The mineral rich Harts Range West and Central Harts Range fossicking areas are located in the Harts Range, nestled amongst mountains such as Mount Brassey, Mount Palmer and Mount Mabel in the southeast of the Northern Territory.
Between the 1890s and the close of the Australia mica mining industry in 1960, almost all the nation's mica came from the Northern Territory. Most was extracted from Harts Range.
Scenically, the mountains have a grandeur and variation of colour as well as many strangely-shaped rock outcrops which will appeal to photographers. Mount Palmer, elevation 1136 m, caps the mountains and provides views of the whole range.
Discoveries
Almandine garnet
Well-shaped specimen garnets up to a few centimetres in diameter may be obtained, together with smaller fragments of transparent, dark reddish-brown material suitable for cutting. Wet or dry sieving may be used.
Access
Access is from the Plenty Highway by a track located 34 km east of the Gemtree Caravan Park. The turn-off is well signposted on both sides of the highway. This track leads to several garnet locations.
Camping
"Bush camping" is allowed. However, please note that there are no facilities on site. The Gemtree Caravan Park offers a range of facilities including fuel (diesel, super and LPG) and a grocery store.
Campers on the fossicking area must provide their own water. They are welcome to replenish water supplies with bore water from the Gemtree, although this facility may be restricted during times of limited bore re-charge. It is advised to check water availability before visiting the site. As a matter of courtesy, please notify the office beforehand, and collect water only during daylight hours.
Campers must take their rubbish with them when they leave.
Please remember that this fossicking area lies within Mt Riddock Station and care should be taken not to interfere with the movement of cattle or other station activities.
Travelling in the NT
Driving in the Northern Territory can pose unique challenges even to the experienced traveller, and road conditions can change rapidly. Check road conditions, rest stops and National Park closures prior to setting out.